Remember those nostalgic days when the smartphone was supposed to be 3.5 inch, the gospel according to Saint Jobs? Well those are over and 5 inch is the new standard. What they told you is irrelevant, the consumer chooses. And what they are saying in India is that the phablet larger than 5 inch is even better than the less than 3.5 inch smartphone.
This happens in the period when the world is already consuming more smartphones than feature phones, thanks to low cost Android phones. India, which is an emerging and mature mobile market, depending on what side of the fence you stand, sold 9.3 million smartphones in second quarter, compared to 3.3 million sold same time last year. This is also an almost 50% growth in smartphone sales compared to first quarter 2013 which was 60.7 million according to IDC.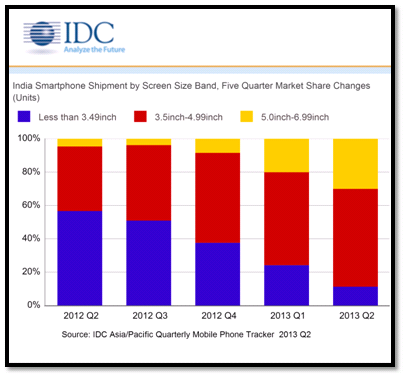 The phablet(smartphones between 5 inch and 6.99 inches) marketshare has risen to 30% compared to 5% same time last year, representing a 17% year on year growth. This is not slowing down as smartphone manufacturers increase the value propositions in this segment. This is also being affected by the users' need to do more media consumption and productivity on the smartphone. The phablet comes squarely at the centre for users who will prefer a large smarthpone and skip the need for a tablet.
Interesting pricing also contributed to the growth with players like APeJ recording 21% growth, this being the largest phablets vendor in India at 85% of the marketshare. Samsung also contributed to this demand with the premium phablet and the equal monthly instalments with zero interest for some high end smartphones. Overall you could expect a near 50% position some time next year with the trend.