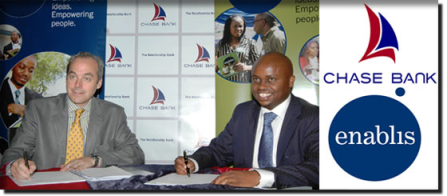 Enablis Entrepreneurial Network East Africa today announced the first loan disbursement of KES 20 Million to a Kenyan entrepreneur through its Loan Guarantee Program with Chase Bank.
Speaking of the occasion, Enablis Africa CEO, Sally Moodley said, "This is another critical milestone for the Enablis network of more than 1,000 entrepreneurs in Africa. Our Enablis entrepreneurs in Kenya are now able to access loans from Chase Bank with Enablis providing the necessary guarantee, in partnership with the Canadian International Development Agency (CIDA), that allows the Bank to consider the entrepreneurs' applications favorably."
Enablis, a public-private partnership, operates at the grass-roots level and is dedicated to delivering to its member entrepreneurs key business enablers like capacity building support, business management training, mentorship, networking opportunities, and access to finance. Enablis loan funding partners in East Africa include Chase Bank in Kenya and National Microfinance Bank PLC (NMB) in Tanzania.
Enablis member Athanas Matheka, the entrepreneur recipient of this KES 20 Million loan, is the owner of Greenforest Foods Ltd (GFL). GFL deals in refining, bottling and marketing of high quality pure natural honey. Greenforest Honey is a leading brand sold through all the major supermarket chains.
The funding will be used for expansion of the business into processing and marketing of edible nuts, and growth of the honey market regionally. While receiving the funds, Mr. Matheka said,
"With this facility, I will expand my business and create direct employment through additional staff, and indirect employment for the farmers and other suppliers from whom I will source materials. Clearly, access to this level of funding made possible by the Enablis guarantee and the Chase Bank facility will transform my business and contribute to poverty alleviation. I am extremely thankful to Enablis and the Government of Canada who made all this
possible and to Chase Bank for a wonderful new relationship."
Moses Mwaura, Regional Director, Enablis East Africa, commented, "This Loan Guarantee Program gives us the ability to fulfill our mandate of providing support to entrepreneurs in all spheres of their businesses. It also allows us to make a substantial difference to the sustainability of Kenyan entrepreneurs in terms of skills development, networking opportunities and finally access to finance."